2019 MotoGP 16th.round Japan GP Bus Tour
1 day course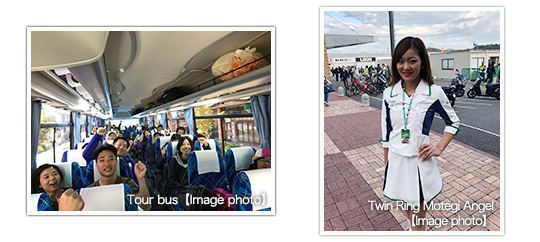 <Tour Points>
Guests from all over the world, chance to make international friendship !
English speaking tour assistant
The exclusive course side hospitality pavilion
GP tickets and VIP hospitality Packages are available【Additional charge】
◆Itinerary - 1 day
Day1-20 Oct (Sun.)
About 7:15am:leave Tokyo station for the Twin Ring Motegi
*Make short stop on the way, bathrooms are available.

09:30am - 11:30am:Arrival at the Twin Ring Motegi
Enjoy the race programs on your own pace.

About 5:00pm:Leave the Twin Ring Motegi for Tokyo Station.
*Make some short stops one the way back, bathrooms are available.

7:30pm - 10:30pm:Arrival at the Tokyo station.
Tour Price (Charge Basis: per person)
12,000 yen
* GP ticket is not included in the tour costs.
【Number of people to be accepted:90】
*This tour requires a minimum number of 30 participants.
---
Included in the tour price
Transpotation by chartered bus on the itinerary
Toll fees
Parking costs
English speaking tour assistant
The Consumption Tax
---
Not Included in the tour price
GP Ticket
Travel insurance
*be sure to prepare any insurance covering damage and losses during your travel by youself,please.
No-smoking on the bus
We expect cooperation from all guests as there is no smoking permitted on the tour bus.
---
Traffic situations
Normally,it takes 2 hours - 3 hours between the Tokyo Sta. and the Twinring Motegi and take 1 hour
between Twinring Motegi and Mito.
If we get stuck in an unavoidable traffic jam, then due to delays it may take 5-6 hours on the way back
from the circuit to Tokyo Sta.
Please note that tour schedule may be delayed bacause of traffic situation.
---
GP Ticket【Optional Service】
We could arrange GP ticket and VIP Package according to your request.
Map of the viewing area.
The yellow colored area are general admission area.
General admission:9,300 yen
G grandstand:12,000 yen《inside of the 90 degrees corner,opposite to the Z grandstand》
Z grandstand:15,000 yen《face to the 90 degrees corner》
V3 grandstand:19,500 yen《middle of the V stands》 Highly recommended !
V6 grandstand:19,500 yen《final corner side of the V stands》 Recommended !
*G and Z stands is numbered seat only on Sun, V4 and V6 are numbered seat on Sat and Sun.
*The tickets are valid for 3days.
Paddock Pass(per day)
Sun 13,000 yen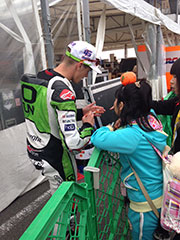 A photo in the Paddock【Image Photo】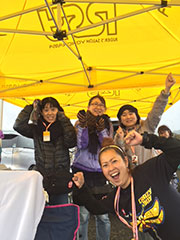 A photo of Estar travel staffs【Image Photo】
◆Petronas YAMAHA Team Guest Package【tour guest exclusive price】
Price: 88,000 yen valid for three days 《18OCT(Fri),19OCT(Sat) and 20OCT(Sun)》
This is a VIP package for you to enjoy watching the race as a team guest of Petronas YAMAHA SRT.
Services included in the package
Paddock Pass
Welcome gifts (Pullstring bag, T-shirt, Cap)
Moto2/Moto3 garage tour
MotoGP garage tour
Meet and greet with Moto2 or Moto3 riders
※The services subject to change without any notice.
※There will be no hospitality facility on Japan GP.
※You have access to the general admission area with a paddock pass.
(an additional ticket is required for grand stand seats.)
Package Distributor【Petronas Yamaha Sepang Racing Team】
◆VIP Village Pass【tour guest exclusive price】
Price: 150,000 yen valid for two days《19OCT(Sat) and 20OCT(Sun)》
The MotoGP Vip Village is the official and exclusive Corporate Hospitality programme
of the MotoGP World Championship.
Hospitality suites are located in the Grand Stand House in front of the Pit Lane Area
,with a small seating area facing the track.
VIP Village Pass includes the following services:
Comfortable seating allocated for each guest
Live race coverage on TV screens w/o sound broadcasting
Free Wi-Fi access in MotoGP Lounge
Air conditioning
Buffet breakfast served on Saturday and Sunday
Gourmet Lunch served on Saturday and Sunday
All day Complimentary Bar on Saturday and Sunday
Pit Lane Walk on Saturday and Sunday at scheduled time
Free access to the Paddock from Friday through Sunday with MotoGP Vip Village Pass
Official Programme on Sunday
※The services are subject to change without any notice.
※You have access to the general admission area with a paddock pass
(an additional ticket is required for grandstand seats).
Package Distributor【International Events Services S.L.U.】
Instructions on GP tickets and VIP package.
※Please contact us in advance to confirm the availability of the ticket.
※We will give you GP ticket and Vip package pass on site.
※We can not give you any refund once you order your ticket and Vip pakage for any reasons.
※ Tickets are available without participating in the tour.
---
The exclusive course side hospitality pavilion
We will make a course side hospitality pavilion at a camp site by the oval course.
This is an exclusive area for our tour members.
You can stop by the space to take a rest while taking a walk in the track and to interact with other tour members.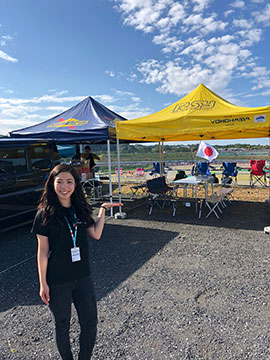 The Hospitality Pavilion【Image photo】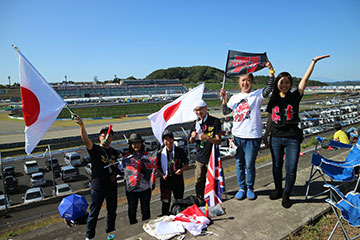 View from the Pavilion【Image photo】
---
Other Tours
3days tour (19Oct -21Oct/2 nights 3 days)
2days tour (20Oct -21Oct/1 night 2 days)
---
About this bus tour
Twinring Motegi is difficult to access from Tokyo and this makes overseas race funs difficult to reach there. In addition, it is not easy to find a tour guide who can help you in English here in Japan.
We arranged this tour so that overseas race fans can enjoy the Japan GP at reasonable price without being bothered by travel arrangements.
This tour is combined tour of Japanese race fans and race fans from overseas.
There would be good chance to make international friendship on the tour !
---
The deadline for application
20th of Sep. (Fri), 2019
or at the time we would collect 90 tour guests.
Cancellation Policy
| | |
| --- | --- |
| If notice of cancellation is received by Estar travel 21 or more days prior to the starting date of the tour | No charge |
| If notice of cancellation is received by Estar travel 20 days to 8 days prior to the starting date ofthe tour | 20% of the tour fee |
| If notice of cancellation is received by Estar travel 7 days to 2 days prior to the starting date of the tour | 30% of the tour fee |
| If notice of cancellation is received by Estar travel 1 day prior to the starting date of the tour | 40% of the tour fee |
| If notice of cancellation is received by Estar travel on the departure date but prior to the starting time of the tour. | 50% of the tour fee |
| If notice of cancellation is received by Estar travel after day of departure, or In case of failure to show without notice | 100% of the tour fee |
※Cancellations shall be made in writing and send by e-mail to the following address:info@estar-travel.net
※There are other cancellation policies for GP ticket and the Party on Sat. night.
---
Terms and Conditions
*Application for the tours
Application procedure is subject to our company's regulations and the Japanese Travel Agency Law.
*Handling Personal Information
Any personal information provided by our customers on our application form will be used only for the purpose of arranging the tour and payment settlement. The company will manage the information provided by customers appropriately.
*Departure time
Our bus departs on schedule during our tours, so please come to the designated places on time. Please note that a guest who missed the bus needs to pay his/her transportation expenses to the circuit or other destinations.
*Arrival time
We cannot guarantee any arrival times since it depends on traffic situation or other reasons.
Time for necessary rest stop(s) will not be reduced even if such delay occurs.
In addition, Estar Travel will not be responsible for taxi fares, overnight accommodations or other expenses occasioned by a tour's late return due to unavoidable circumstances.
* Refund Policy
Paid by credit card:The money will be refunded through the credit card with which you paid, according to the credit card's terms and conditions.
In addition, an exchange rate at the time of your cancellation applies,not the rate at the time of purchasing the tour.We can not give you a partial refund through credit card.For a partial refund,we will first make refund for
the full amount of your payment and at the same time charge non-refundable costs to your credit card.
Paid by international bank transfer:The money will be transferred back to your account after deducting a bank handling fee and our handling fee (it may be quite expensive).
*Minimum number of participants required
The tour may be cancelled if the minimum number of participants is not reached by September 20th(Fri).
If the tour is cancelled, we will refund the tour costs except for a GP ticket.
*Exception clause
Estar Travel is not liable for damages incurred by the customer due to natural disaster or change in tour/racing
event schedule, itinerary or route, or cancellation of tour due to such causes.
*Termination of Contract
If the customer does not use all travel services included in the package tour or leave the tour group before the tour ends due to the customer's personal reasons, such customer is deemed to have waived his/her right and we will not refund any travel fees.
We may terminate our travel contract in the following circumstances:
(1) The customer is unable to continue the travel because of sick or injury, unavailability of an attendant or any other reasons; or
(2) The customer does not follow our tour conductor or local guide's instructions for securing safe and smooth trip or, obstructs safe and smooth tour activities by violent or threatening behavior against our staff members or other tourist.
---
How to join the tour
Please check the availability of the tour by email or phone in advance.
Submit the application form and pay all tour costs and optional service fees within 3 working days (in case of credit card payment).
In case of bank transfer, please make sure that the payment will be received in our account within 5 working days.

Booking will be valid only after we confirm both application form and payment.
Please note that the booking will be cancelled if we cannot confirm the payment.
【ways of payment】
(1) Bank transfer payment
Please send the total tour costs to our bank account by bank transfer.
Here's our bank account details;
MUFG Bank
Nippori Branch
Ordinary account # 0733590
Account name: Estar Travel Co.,Ltd.
Swift Code:BOTKJPJT
*Please kindly note that any bank charges shall be paid by guest.
if we could not receive total tour fees because of the bank charges,we would ask you the balance on site.
(2) Credit card payment
We will send you a payment instruction by email after we confirm your Tour Application Form.
Please proceed the payment according to the instructions.
after confirm both the order form and the payment, we will send you confirmation of the tour.
about 1 week before the tour, we will send you final itinerary by email.
Tour starts from Tokyo train station.
---
Tour Planned and Operated by
PINK inc.
Travel Agency authorised No.1861
9-7-1 Tokyo Midtown Tower 23F Akasaka Minato-ku, Tokyo, 107-0052, Japan
Application and inquiry【Consignment sale】
Travel agency authorised No.Tokyo 3-5247 Estar Travel co.,ltd.
La puente alta #401,2-27-3,Nishinippori, Arakawa-ku, Tokyo, 116-0013, Japan
TEL:81-(0)3-5850-3315 FAX:81-(0)3-3803-1105
email: info@estar-travel.net
http://www.estar-travel.net
In charge: Eiichi Sato